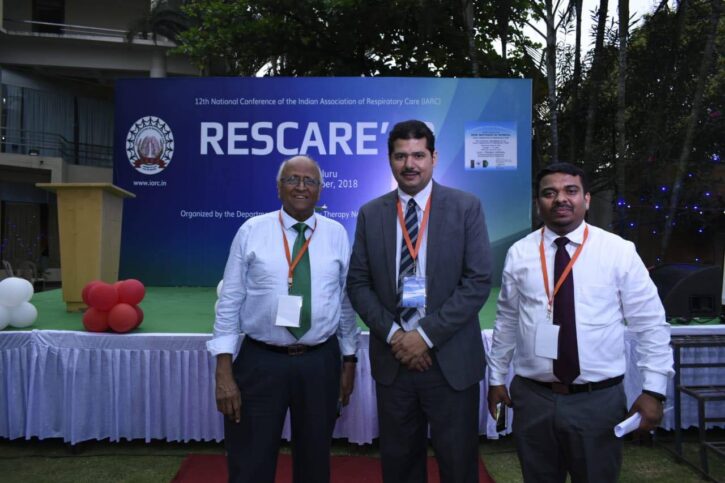 The respiratory care profession has many PhDs in its midst, but they have all earned the degree in a subject outside the profession. Until now, that is. Jithin K. Sreedharan, BScRT, MScRT, FISQua, FNIV, FIARC, PhD, recently became the first RT in the world to earn a PhD specifically in respiratory therapy.
Jithin K. Sreedharan holds the world's first PhD in respiratory therapy.
He received the degree from the Srinivas Institute of Allied Health Sciences at Srinivas University (SU) in Mangalore, India, which has one of an expanding number of PhD programs for RTs in his country. SU began the program in 2017, and Dr. Sreedharan enrolled in 2018, taking five years to complete the degree. Currently, there are eight other PhD scholars in the program, which consists of one year of coursework that includes biostatistics and research methodology modules, along with mandatory courses meeting the regulations set forth by the government of India and the University Grants Commission.
Capstone courses and research work in specialized areas follow and round out the education received by PhD candidates.
Standing out from the crowd
"With so many master's grads working today, choosing to pursue a PhD in respiratory therapy was a chance for me to stand out from the crowd," said Dr. Sreedharan, who currently serves as a full-time faculty member in the department of respiratory care at the Prince Sultan Military College in Dhahran, Kingdom of Saudi Arabia. "The knowledge I have gained is undoubtedly necessary for a career as an educator and researcher, but it is also extremely beneficial beyond the academia. I strongly believe my research work presents a unique opportunity to make a meaningful contribution to our collective knowledge base and to transform the way respiratory therapists engage with the health care continuum."
Dr. Sreedharan wrote his thesis on "Establishment of a Rewarding Profession: Respiratory Therapy in India," a topic he chose to help further the profession in his country and worldwide.
"The RT field has existed in India since 1995. However, we observed a slow-paced growth, which we believe is due to the unawareness and non-acceptance by the other health care professionals," he explained. "One of the major reasons for this is due to the scope of practice, which many times overlaps with other professionals such as physicians, nurses and physiotherapists. I hope my research will serve as a benchmark to diversify and distinguish the scope of RTs, amongst the health care profession."
Daniel D. Rowley, MSc, RRT, RRT-ACCS, RRT-NPS, RPFT, FAARC, president of the International Council for Respiratory Care (ICRC), where Dr. Sreedharan serves as Governor for India, was thrilled when he learned of his colleague's achievement — not just for him personally, but for the profession as well.
"When I learned that Jithin had earned a PhD in respiratory therapy, I immediately thought to myself that his dedication and commitment to earning the degree is a historic milestone for the profession because the profession now has the first doctorate degree in respiratory therapy conferred globally," said Rowley. "This is a major step forward because having a terminal doctorate degree in respiratory therapy substantiates the field, and it may inspire other respiratory therapists to follow suit if they are provided with the opportunity."
Advancing the profession
Dr. Sreedharan will use his new degree to further his overall mission: to advance the profession through scholarship and research. He is an active researcher in his own right, with published papers in journals ranging from the American Journal of Critical Care to the Canadian Journal of Respiratory Therapy, and he also serves on his university's masters' program board and as the lead for quality and accreditation, with an emphasis on respiratory care education.
In addition to his role with the ICRC, he is general secretary of the Indian Association of Respiratory Care, a member of the Board of Studies at various governmental and non-governmental organizations, and an editor and editorial board member and reviewer for a number of journals.
"I understood the need to pursue my doctoral degree as a personal goal since I was serious about teaching at the university level," he said. He believes being able to represent the profession as an RT with a doctorate is critical because a committee comprised of doctoral-level experts is typically recommended when standardizing the curriculum for respiratory care programs, and it is always better for RTs to represent themselves on these committees than to have physicians act on their behalf.
Rowley agrees. "Overall, education at the PhD level in respiratory therapy can benefit the profession by signaling to others that the profession has a terminal doctorate degree," he said. "This is important when considering the recruitment and preparation of the future generation respiratory therapy students, researchers, academic program faculty, and leaders within the field."
While he applauds RTs who have earned PhDs outside of respiratory care, Rowley says the ICRC would like to see more institutions of higher learning offer a PhD specific to respiratory therapy, as did SU. "This would provide respiratory care providers with an opportunity to pursue deeper study within a concentrated curriculum that is specifically designed for respiratory care providers," he said.
Mentors made a difference
Dr. Sreedharan credits his PhD accomplishment to the many people who he counts as his mentors and wanted to take this opportunity to share the role they have played in his career. Here is his tribute to the mentors who helped him reach the goal —
Dr. Prasanna Simha, a prominent cardiothoracic surgeon, made a strong impression on me throughout my undergraduate studies on how crucial it is to comprehend the physiological underpinnings of different therapeutic modalities and how to assess treatment efficacy using that framework.
My inspiration to become a teacher was Dr. Suresh G. Nair, who also had a profound influence on me regarding true leadership. He possessed a servant leadership style and was constantly shining a light on others around him.
I thank my principal guide, Dr. Udayakumar Rao, the Dean of Srinivas Institute of Medical Sciences and Research Centre, for his constant support in achieving this accomplishment.
Another important person is Dr. Mohammed Al-Ahmari, a well-known personality in the field of respiratory care worldwide. From 2015, I began working with him at the Prince Sultan Military College of Health Sciences in Dhahran, Saudi Arabia. This experience in Saudi opened the doors for me to get involved in research. Dr. Al-Ahmari served as both my co-guide and an inspiration to me, driving me to enroll in the PhD program, and he continues to be a lifelong mentor for me.
Roadmap for the future
Jithin Sreedharan has come a long way since beginning his career in respiratory care in 2004 as one of the first batch of RTs in India, earning his undergraduate degree from Sri Jayadeva Institute of Cardiovascular Sciences and Research Center and his master's degree from Amrita Institute of Medical Sciences and Research Center-Kochi. He believes earning his PhD in respiratory therapy will help him bring bachelor's and master's degree programs in RT to countries throughout the world.
"By the time I was done with the thesis, it had taken on the form of a manual and a roadmap for the establishment of the respiratory therapy profession," he said. "Those five years just flew like five months, and I never felt it as tiring or exhausting because my aim was to bring out the much-required recognition for our profession."
Email newsroom@aarc.org with questions or comments, we'd love to hear from you.