RC Week 2019 is now complete, and with a theme revolved around caring, you'll want to keep it going all year long. AARC Members celebrated big for the week. See how your colleagues spent the week.
Elmhurst Rehab Facility
The Elmhurst Rehab Facility in Providence Rhode Island held a Better Breathers Club Meeting with guest speaker Angela Butler, BS, RRT, a COPD Health Advocate.
VCU Health Systems
VCU Health Systems celebrated Respiratory Care Week with luncheons throughout the week. They held drawings with prizes for their staff. All therapists were given lunch bags filled with goodies.
Meritus Medical Center
Managers at Meritus Medical Center organized an education day for all staff members and provided breakfast and lunch. The day included speakers from inside and outside the organization with topics including sleep apnea management, VAE information, and a new way to look at waveforms. Senior leadership also stopped by to express their appreciation for the respiratory therapists, leaving a delicious cake behind.
"It was a nice way to spend the week investing in our knowledge and taking the time to remember why we do what we do," said Jennah Hollen, BS, RRT, RRT-NPS, AE-C.
Children's National Hospital
It was a week of appreciation, outreach, and reflection at Children's National Hospital."A week of acknowledging our peers and sharing our expertise with others!" said Kristian Sturrup, RRT, RRT-ACCS.

A Proclamation from District of Columbia Mayor Muriel Bowser acknowledging the contributions of respiratory therapists and proclaiming the week as National Respiratory Care Week kicked off celebrations. According to Sturrup, games, raffles, food, lectures, and a whole lot of fun added to the week's celebrations.
Doctors Hospital Nassau, Bahamas
Staff members from the Doctors Hospital Nassau in the Bahamas celebrated the week by visiting a high school and church service, taking part in an informative radio session, hosting a RC Week display at the hospital, treating respiratory staff to dinner, cooling off with a dunk tank, and holding an RT vs. Physicians "Sputum Bowl" game.
Hillsdale Hospital RT Team
This Hillsdale Hospital RT Team's big event for Respiratory Care Week was a gift basket raffle. Their team collected donations from local businesses and created gift baskets for which they sold raffle tickets all week. The week culminated in the big drawing on Friday, when they also served cookies to the hospital staff. All proceeds from this event were donated to the Trails Edge Camp for ventilator-dependent children. This camp is offered free of charge to the campers and is funded solely by donations.
University Health Systems – Robert B. Green
At the University Health Systems – Robert B. Green, respiratory therapists celebrated the week by holding an OSA, Asthma, and COPD patient education event.
"We set up a booth full of patient education materials; provided spacers and inhaler/spacer technique instruction for those with asthma and/or COPD; and provided patient education in OSA and sleep disorders!" said Jennifer Laskowski, RRT, CCHS.
La Rabida Children's Hospital
At La Rabida, the respiratory therapy staff celebrated with a special lunch, respiratory-themed games (like bingo!), and spent time with patients."We are so proud of the work that we do, and love that we could celebrate this week," said Marren Culberson, lead RCP.
Harrison County Community Hospital
For RC Week, the team at Harrison County Community Hospital took part in a game for people to get to know the RTs on staff at the hospital. This year's game was "Random RT Facts," where people had to match the photo to the random fact and gave a prize to the winner. They set up an informational table at the entrance to the facility with facts about respiratory care, their department as well as educational materials on smoking cessation and vaping. One RT also spoke at a local high school about the profession.
St. Joseph's/Candler Hospital
Respiratory therapy student Monica Ellis enjoyed the chance to celebrate RC Week at Candler Hospital in Savannah, GA, where she takes part in clinical rotations twice a week.
"This year, I celebrated by using the cool gear that the RRT staff at Chandler provided!" Ellis said. "Being a student, seeing all of the joy of this week just makes me even more excited to participate in Respiratory Care Week next year as a real RRT."
Laurel Technical Institute
In celebration of Respiratory Care Week, the Laurel Technical Institute respiratory therapy students from Hermitage, PA were out in their community at St. Joes at the mall and the Shenango Valley Senior Center. They performed vital signs, spirometry screenings, and inhaler education. They even got a little exercise! The students enjoyed the wellness aspect of respiratory care and giving back to their community.
Manchester Community College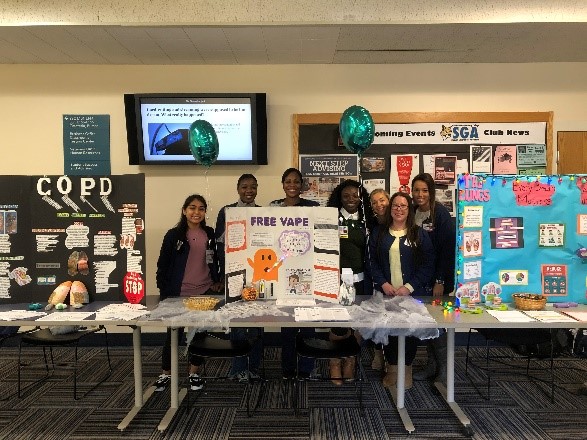 Respiratory therapy students from Manchester Community College presented information to their peers about how "every breath matters." They discussed asthma, COPD and vaping.
Tawam Hospital
Staff at Tawam Hospital celebrated Respiratory Care week by holding a special event to raise awareness of the services offered by the Respiratory therapy department. A booth was placed at the hospital lobby and participants were educated on the proper use of inhalers and asthma management.
"We showed the role of RTs in the ICU," said Asuncion Carlos, RRT, RRT-NPS, RPFT.
Participants were able to have a free spirometry test. There were trivia questions for participants and winners were given either a souvenir cup of cookies. Staff members were also treated to a nice breakfast.
Bergen Community College
Respiratory therapy students from Bergen Community College celebrated the week by demonstrating pulmonary function testing, showing volunteers the strength of their lungs. The also informed students on the effects of vaping along with educating them on respiratory therapy as a career option.
Directorate General of Khoula Hospital in Muscat, Oman
The respiratory care service department at the Directorate General of Khoula Hospital in Muscat, Oman organized Respiratory Care Awareness Day on Oct. 22 in their outpatient clinic and rehabilitation building."The main goal of the event was to recognize the contributions of respiratory care professionals and raise awareness about respiratory health–smoking, tracheostomy care, and common respiratory system diseases, COPD, OSA, Asthma, etc.," said Ruqaiya Al Harthi, MSc., RRT, RRT-ACCS, RPFT, NPS, AE-C. "Our target group was health care providers and community. The event went successful and well organize."
Rush University Medical Center
At Rush University Medical Center, Department Director Steven Mosakowski kicked off RC Week 2019 by hosting a red-carpet moment for all the respiratory therapists that work at Rush.
Indian Association of Respiratory Care & Dept. Respiratory Therapy at Amrita Institute of Medical Sciences and Research – India
The Indian Association of Respiratory Care & Dept. Respiratory Therapy organized a half-day education event to kick off its RC Week celebrations. Prem J. Fisher, director of respiratory care services from Kindred Hospital in Chicago was the guest of honor. She delivered a keynote address to delegates from across the country, discussing the future perspectives of the respiratory therapy profession and the opportunities in India.
Email newsroom@aarc.org with questions or comments, we'd love to hear from you.