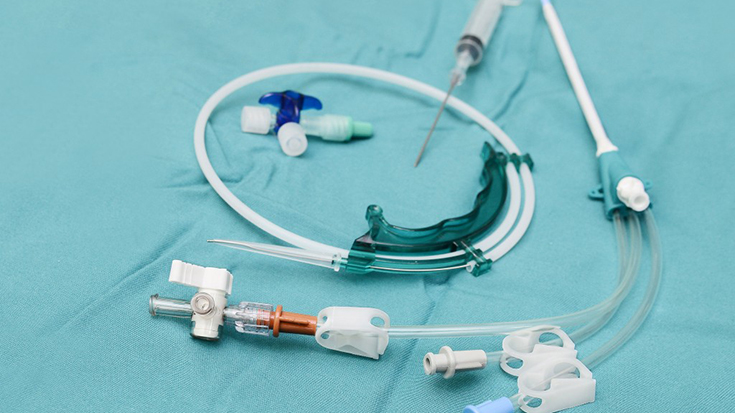 Respiratory therapists are known for their willingness to take on new challenges, and that's what Keegan Mahoney, BS, RRT, VA-BC, decided to do back in 2006 when he had the opportunity to train with a Vascular Access Team (VAT) at Banner Estrella in Arizona.
Vascular access is now part of the scope of practice for RTs at Banner Gateway MD Anderson Cancer Center in Gilbert, AZ.
"It was here that Chuck Ramirez, BA, RRT, VA-BC, had established a respiratory therapist lead PICC insertion team that would later be implemented across Banner as a system," Mahoney said. "RTs were identified as a group of licensed professionals that were procedure-oriented, had experience with all ages and acuities of patients, had experience with venous and arterial punctures, and could place PICCs at the bedside."
Mahoney completed the training, and he's been inserting PICC lines and more at Banner Gateway Medical Center since it opened its doors in 2007. Today he's associate manager of the VAT at Banner Gateway MD Anderson Cancer Center in Gilbert, AZ, where he manages and works alongside six other RTs. They have expanded their scope of practice into vascular access.
"I am very proud to say my team, along with the majority of VATs at most Banner facilities in Arizona, operate at a level of practice that far exceeds most clinicians' expectations of what is within the scope of practice of a respiratory therapist," Mahoney said.
Indeed, when he tells someone that he and his RT colleagues place arterial and PICC lines and also central venous and acute dialysis catheters, he says he often gets a comment like, "I thought only doctors did those."
"I could respond with a lengthy discussion, but usually I just utter the words, 'not anymore' with a big smile," he said.
The practice spreads
As one of the first RTS to work in vascular access, Mahoney began sharing his expertise during presentations to groups across the country, including at the AARC Congress. With the news spreading, it was only logical that RTs at other facilities would follow suit if their state licenses would allow it.
One of those colleagues was Stacey Cutts, BS, RRT, VA-BC, who petitioned the state board in Texas to allow RTs to place PICCs under their license to practice. Now there are multiple locations in the state where RTs are performing the service, including Texas Health Resources-Cleburne, where Scott Murach, RRT, VA-BC, EMT-B, has led the way.
"I had been told that respiratory therapists were going to be allowed to perform PICCs/venipunctures," Murach said. He read an article published by the AARC that confirmed that information for him. He signed up to attend a PICC workshop sponsored by the AARC and Texas Society for Respiratory Care. Keegan Mahoney just happened to be one of the presenters.
Murach brought what he learned back to his hospital.
"We presented the idea to our medical director, who was immediately energized to make this happen," he said. He credits his hospital administration and his medical director – who is a pulmonologist – for championing the cause but notes it took a lot of hard, collaborative work with all the members of the medical staff to bring the idea to fruition. Finally, the pieces fit together, and by April of 2018, the program was off and running.
"RTs were selected to assist in augmenting nursing and their needs," Murach said. "We are at the hospital 24/7/365, and we are a department that is constantly wanting to contribute and extend our license to its fullest potential. I'm glad we were able to help."

Comprehensive training
Mahoney and Murach say their departments have only trained a few RT staff members in the vascular access procedures.
"We have chosen to incorporate the narrow and deep training method rather than the wide and shallow method," Murach said. "We typically will have a person approach us and show interest." In many cases, therapists will decide the area isn't really for them once they see how extensive the training is. "There's a big commitment in this vocation, and the learning curve can sometimes be harsh," he continued. "In addition, ultrasound skills are a perishable commodity."
Mahoney says his hospital requires interested RTs to have the RRT credential and a minimum of two years of critical care experience. They also need to have a proven proficiency using ultrasound while obtaining arterial blood gas samples. He believes ultrasound is paramount to success in the vascular access arena.
"For all those nonbelievers out there…go try and give a colleague a high five with both your eyes closed," he said to drive home his point.
Industry partners have been critical to getting RTs up to speed on the technology.
"For directors and managers looking to start teams within their departments, I highly recommend reaching out to industry partners," Mahoney said. "Many of them have toolkits that provide generic policies and other necessities for the early days, and most will provide some sort of hands-on simulation training onsite for the inserters, which can be a great asset when first assembling a team."
Murach agrees.
"In the beginning, I was the only one in the hospital doing PICCs, midlines, and PIVs," he said. "We were fortunate to have a great partner with BD." He says the company sent in a clinical specialist who helped him acquire the needed skill set and adjust to this new area of care. A few months later, the hospital decided to add another therapist to the team, trained first by BD and then by Murach. The therapist after that was trained using the BD system as a blueprint. "Now that RT is independent in PICCs, midlines, and PIVs," he said.
At Mahoney's hospital, therapists who go through the initial training with industry partners' assistance are then teamed up with an experienced inserter. They are deemed "competent" after 25 successful insertions under supervision and "proficient" after 50 successful insertions working with a senior team member.
Once they have achieved 100 successful insertions, which may be completed without a VAT team member present, "expert" status is earned, and they are then able to train new inserters. Mahoney emphasizes the road to get to that point is long.
"Let me reiterate," he said, "this does not happen overnight."
More timely care
Mahoney and Murach believe adding vascular access services to the RT roster is good for therapists and the department. "It definitely creates space and opportunity for growth," Mahoney said. "It adds rungs to the career ladder."
The training in ultrasound technology pays off in increased efficiency, and he offers ABGs as a good example. "How many therapists does it take to get a difficult ABG stick – two, three, four?" he asked. "How many ultrasound-trained therapists does it take to get a difficult ABG – one."
For hospitals currently using an outside company or an interventional radiology team for PICC placement, the time advantage is huge. As Mahoney notes, the typical turnaround time runs from four hours to multiple days when relying on these teams. When an experienced RT is available to place a PICC line using ultrasound and tip location technology, fewer delays in care will occur, more timely patient discharges will take place, and overall costs will be lower.
Murach echoes those sentiments.
"Under the old scenario, patients might have had to wait upwards to eight hours for PICC placement," he said. "Now it is accomplished in a matter of minutes." Patients are more likely to receive the device that is truly right for them, he says, whereas historically, they received a PICC regardless of clinical indicators.
Opening doors
Scott Murach believes adding vascular access services like PICC lines to the RT's scope of practice shines a new light on the profession as a whole and helps to open even more doors for therapists.
"We get asked a lot, 'You're a respiratory therapist, and you do IVs?'" he said. "Then there are patients who we have serviced before asking specifically for us. We are a small rural hospital where vascular access needed to be offered to our community in a timely fashion."
Keegan Mahoney says performing this service may not be for every therapist. Still, those who want to reach past the traditional responsibilities of the RT may find vascular access is right for them. "RTs have never been afraid to get dirty, think on their feet, work in and out of the Magic Box,' and step up and answer the needs of our patients," he said. "I challenge all RTs to answer your patients' and facilities' call to place PICC lines should there be a necessity or room for improvement."
Watch Stacy Cutts explain how to implement a respiratory-driven vascular access program in this Big Ideas Theater video from AARC Congress 2019. Learn more about certification for vascular access professionals here.
Email newsroom@aarc.org with questions or comments, we'd love to hear from you.