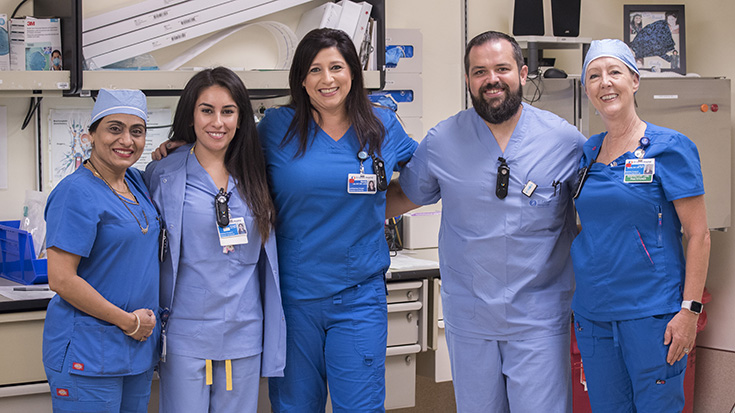 These are some of the therapists who took on an interventional pulmonology role at El Camino Hospital.
Respiratory therapists are known for their ability to adapt to new situations and take on roles outside of the traditional respiratory care practice. One area with growing potential for specially trained RTs is interventional pulmonology. While diagnostic therapists have long participated in basic bronchoscopies, today, the field encompasses a much more comprehensive range of tests and procedures certain to challenge anyone interested in delving deeper into the specialty.
James Canfield believes RTs are the right choice for the interventional pulmonology team.
For years, James Canfield, MBA, RPFT, has advocated for a greater role for RTs in the area of interventional pulmonology. He believes it has great promise for therapists willing to put in the extra training required.
The rapid proliferation of new technologies
"Interventional pulmonology is a subspecialty of pulmonary medicine that uses advanced diagnostic and therapeutic procedures," explained Canfield, who serves as the diagnostic and respiratory care services manager at El Camino Hospital in Mountain View, CA. "There has been a rapid proliferation of new pulmonary procedural technologies over the last decade."
The procedures are used across all malignant and nonmalignant diseases of the respiratory system, including lung cancer, metastatic cancer of the thorax, central airway obstruction, mediastinal lymph node staging, peripheral pulmonary nodules, pleural effusion, pneumothorax, and respiratory failure. Advanced treatments for conditions like emphysema and asthma are delivered in the interventional pulmonology setting as well.
Canfield first got involved in the area back in 2006 when he worked at the Veterans Affairs hospital in Palo Alto with his current medical director, Ganesh Krishna, MD. When they both moved to El Camino in 2008, they brought their expertise with them and started the program that today employs 10 therapists.
"Dr. Krishna, during his training in Germany, had observed their programs being staffed with highly trained staff that had similar clinical skills as respiratory therapists in the U.S.," Canfield said. "From the start, our goal was to develop advance practice level therapists to staff this program."
Stiff requirements for the job
Therapists who choose to pursue a position on the interventional pulmonology team must be an RRT and have at least three years of full-time experience working in a critical care setting. They must also be ACLS certified, and they must maintain 80 clinical hours per year in other core areas staffed by the department, such as the ICU, NICU, or pulmonary function testing lab.
A strong foundation in physiology is a must, along with a solid understanding of the respiratory system. Training is extensive, with a strong focus on the contraindications, technical aspects, complications, and quality assurance issues related to bronchoscopy setup and assisting. Since some procedures will require team members to wear a radiology apron for extended periods, they have to be comfortable with that requirement.
Canfield emphasizes that the job is fast-paced and can be stressful. He wants therapists to know what they are signing up for before taking the leap. "They must possess and have demonstrated the ability to deal calmly and effectively with high-stress situations — for example, tight deadlines, hostile individuals, emergency situations, dangerous situations," he said.
Procedures are scheduled five days a week on the day shift, and therapists need to be ready to go at a moment's notice. Therapists on the team serve as either the first assistant, working side-by-side with the interventionist and fellow, or second assistant, working the back table during the procedure.
Here's a list of the interventional pulmonology procedures that RTs at El Camino are trained to assist with —
Introductory Flexible Bronchoscopy: Hands-On Workstations
Trans Bronchial Biopsy and Needle Aspiration
Electromagnetic Navigational Bronchoscopy (EMN)
Robotic Bronchoscopy
Endobronchial Ultrasound (EBUS)
Bronchial Thermoplasty (BT)
Bronchoplasty
Thoracoscopy
Endobronchial Airway Stenting
Argon Plasma Coagulation in Flexible Bronchoscopy
ERBOKRYO® CA Cryosurgical Unit
Bronchoscopic Spray Cryotherapy (SCT) in the Lung
Bronchial Valve Placement
Therapists on the team maintain annual competencies in all of these procedures as well.
Show me the money
Canfield says starting an interventional pulmonology program isn't easy — or cheap. "This is a program that is built within the Pulmonary Interventional Fellowship training program," he said. "These types of programs are extremely expensive to set up and maintain from an equipment standpoint."
His hospital has invested more than $2 million in equipment so far. The robot used for the procedures cost $600,000 alone. Given those numbers, a significant patient population is needed to keep things going. "Needless to say, this is physician-driven," continues Canfield. "Without a stable referral base, these programs do not last."
To ensure physicians know about the program, El Camino has embarked on an extensive PR effort geared to physicians in the community. Thanks to those initiatives, the hospital has become a destination facility for interventional pulmonology in their area of the state.
Team members make the program a success and have been rewarded for their efforts. "The hours are long, and the stress is high due to the clinical nature of each procedure," Canfield said. "We constantly do recognitions for the staff, and we were able to build a level 4 — our highest — salary package into our budget."
Over the past few years, he has partnered with the RT faculty at Foothill College to make training available to other clinicians in the area as well. Working with Program Director Brenda Hanning, DHSc, RRT, he has developed an 18-credit, state-approved and transferrable unit leading to a certificate in interventional pulmonology. Delivered mainly online, the program is open to RTs and nurses alike and provides advanced training in diagnostic and therapeutic interventions. "Our classes have between eight to 12 students every quarter," Canfield said. "We work with each student in acquiring a clinical rotation site."
A big payoff
James Canfield believes the time and energy he has invested into the use of RTs on the interventional pulmonology team has paid off on many levels. Not only has it created more opportunities for the therapists in his department, but it has promoted the role of the RT on these teams across his area as well. Overall staffing has benefitted too. Therapists in the region look at his hospital as an example of all that RTs can and should be.
"Our department is now a center that RTs desire to work in across the Bay Area," Canfield said. "We usually have multiple high-level therapists applying when we have openings. We are also considered one of the leading services within El Camino Health."
Email newsroom@aarc.org with questions or comments, we'd love to hear from you.