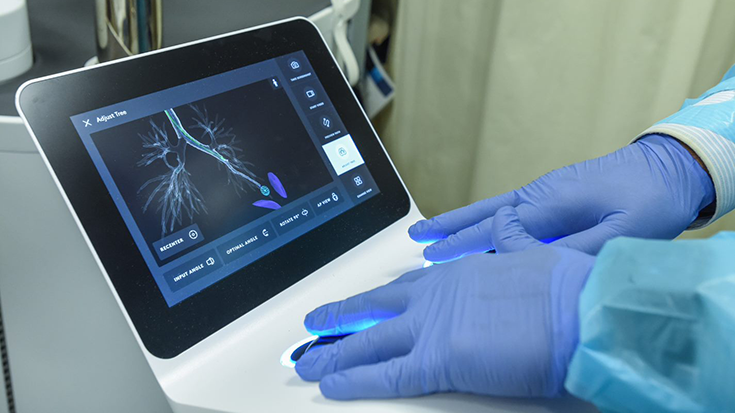 It's easy to get excited about many of the advancements in advanced diagnostics in bronchoscopy today. As pulmonologists, it was not too long ago when bronchoscopic approaches were bypassed in favor of handing off patients to others, such as radiologists, surgeons, and medical oncologists. But why the significant change in clinical practice and how patients are managed today at many centers?
It's not just the technology driving this, but changes in standards, increased demand, and an evolving ecosystem in bronchoscopy that are all changing. Moreover, further innovations are along the horizon. For the respiratory therapist (RT), such advancements create multiple opportunities for the profession to provide clinical, organizational, and scientific expertise to this evolving space.
1. Innovations in Diagnostic Bronchoscopy
Several key advancements in diagnostic bronchoscopy are worth mentioning, all of which continue to evolve:
Incorporation of Real-Time Ultrasound: Both linear and radial endobronchial ultrasound (EBUS) have improved the abilities for diagnostic bronchoscopists to identify lesions, especially those just adjacent to the larger airways (e.g., lymph nodes, mediastinal lesions)i. These technologies have transformed the yield of nodal and tissue acquisition, with real-time visualization dramatically enhancing the way bronchoscopists consider approaching biopsies while also avoiding vascular structures. Moreover, the technology dovetails with the bronchoscopic systems of leading manufacturers. Today, training is ubiquitous for pulmonologists and many thoracic surgeons, creating the expectation that facilities will provide wider adoption as demand increases.
Navigation to the Periphery: Traditional bronchoscopes limit the ability of the bronchoscopist to enter beyond third- and fourth-generation airways. Aside from ultrasound uses for proximal lesions mentioned earlier, this challenge limits the yields of advanced bronchoscopic approaches. Hardware and software enhancements to aid this include the use of radial ultrasound. However, several device manufacturers have developed Virtual or Electromagnetic Navigation (VMN, EMN, respectively); these incorporate the patient's CT image to guide the bronchoscopist for more precise lesion localization. Diagnostic yields with these systems have shown upward of 70% yield even for small lesions, and many centers have built high-quality and high-volume bronchoscopic programs based on VMN/EMN and EBUS aloneii.
Newer generation bronchoscopes: In addition to bronchoscopes with embedded ultrasound, there are now bronchoscopes that are slimmer, with larger working channels, more angulation, better imaging options, and even technologies that allow pathological assessment at the time of visualization (e.g., confocal, autofluorescence)iii. The increased popularity of single-use bronchoscopes will likely add to the armamentarium of bronchoscopes available depending on the clinical need. In addition, the adoption of robotics promises to be a more precise means of peripheral navigation, with the added feature of stability to aim at the peripheral lesioniv. There are currently two device manufacturers in the USA with FDA approval in this space, and more to come.
Today, the RT assisting with advanced diagnostic bronchoscopy needs to develop skills with these devices. They need to understand some of the utilities and nuances of modern bronchoscopes to best assist the team.
2. Innovations in Adjuncts and Processes
In addition to the advancements in bronchoscopes, several additional areas have advanced.
More biopsy tool options. There have been tremendous advancements in the types of biopsy tools now available to advanced bronchoscopists, including specially engineered needles of different sizes for use with ultrasound and to navigate to the periphery of the lung. In addition, there are now a variety of brushes, forceps, and other tools that, especially when coupled with precise localization tools, can offer the bronchoscopist an array of customized tissue acquisition choices. It is not uncommon to use multiple different biopsy tools in the same procedure.
Pathological and laboratory advancements. Cytological, histopathological, and molecular testing have rapidly advanced in the field of pulmonary medicine. Unfortunately, a cytopathologist's Rapid On-Site Evaluation (ROSE) may not be feasible for some centers. However, advancements in laboratory technologies, such as immunohistochemistry, polymerase chain reaction (PCR), and other procedures, allow teams to understand more of a patient's disease from small samples. Coupled with the improved yields of tissue in general, minimally invasive approaches often limit the need for other invasive procedures. Importantly, there is a shift in many centers to enhanced communication and dialogue between the pathology and pulmonary teams involved in diagnostic specimen acquisition. For example, in our bronchoscopy suite, we often communicate with our pathology colleagues around and during the procedure.
Adjunctive imaging modalities. Along with the bronchoscopic imaging technologies, there have been advancements in radiology such as digital fluoroscopy (including 3D options) and even cone-beam CT scans during the bronchoscopy. These imaging modalities allow for more precise localization to ensure the tools are in the correct location, thus enabling procedural success. As these technologies evolve, they provide better imaging and more functionality. They also become smaller, lighter, and more portable than their predecessors. Because of this evolution, expect another shift in how radiological imaging is done during bronchoscopy.
Anesthesia and sedation practices for bronchoscopy also continue evolving. Many centers now have a more consistent presence of anesthesia teams to facilitate more complicated and/or prolonged bronchoscopic procedures. These allow for the performance of procedures outside of the operating room, enabling more pulmonologists access to procedures while also allowing for increased safety, quality, and efficiency.
In our center, we offer EBUS, EMN, and Robotic bronchoscopy for diagnostic procedures. As such, our RTs are mindful of the equipment and supplies. They are also skilled in using different technologies. Importantly, they communicate with the nursing teams, anesthesia personnel, laboratory personnel, and radiology teams to optimize the chances for a successful procedure.
3. Increased Demand for Services
A few notable demands fuel the growth of diagnostic bronchoscopy and the innovations described.
Innovations in Oncology treatment options. Medical oncologic treatment options for lung cancer often require additional tissue sampling and more precise staging that can sometimes be accomplished by radiographical methods alone. For patients with surgical and/or radiation oncologic options, precise evaluation of primary lesions, lymph nodes, and other abnormalities is increasingly demanded. Bronchoscopy labs and the RTs that support these efforts are often asked to play a larger role in these patients' diagnostic and treatment pathways. Moreover, the RTs that support these programs are increasingly involved in tumor boards, data collection, and team-based care of such patients.
Newer pathways of patient volume including Incidental Lung Nodule and Lung Cancer Screening programs. The rise in the number of patients found to have pulmonary abnormalities is increasing. Coupled with the rise of lung cancer screening for patients at risk of lung cancer, more diagnostic abnormalities lend themselves to more and sometimes increasingly complex diagnostic procedures. These drive consumer demand. With the ability to simultaneously biopsy peripheral lesions and lymph nodes, bronchoscopic approaches can provide several different patient-related answers in a single, relatively safe procedure. By comparison, radiological procedures are often limited to a diagnostic procedure on one local site, and additional sites of suspected disease may require separate procedure(s). Concordantly surgical procedures can be higher risk, more invasive, and potentially avoidable if proper bronchoscopic staging is done. So, it is not surprising that diagnostic bronchoscopy now often supplants the roles of radiology and thoracic surgery for many centers in the evaluation of patients with thoracic abnormalities.
Aging and an increasingly medical complex patient population. Just as in other disease states, our increasingly medically complex patient population favors less invasive means of diagnostics and less risky procedures. Whether it be bronchoscopy for diagnostic abnormalities related to incidental findings, oncology, or infectious evaluations, clearly less invasive and more precise sampling methods are favored when feasible. As such, if bronchoscopic diagnostics can obviate surgical procedures and facilitate better decisions around antimicrobials, chemotherapy and/or radiation, that also fuels the growth and demand for such procedures. Unfortunately, in our bronchoscopy suite we often take for granted how medically complex our patients are, and what our team can accomplish.
Today's RT in advanced bronchoscopy will learn to appreciate the number of different pathways that patients come to attention to while also showing the clinical skills and compassionate care needed to aid in the care of an increasingly medically complex and often frail patient population.
Additional Roles and Skills for RTs in Bronchoscopic Advancements
The increasing volume and breadth of work in bronchoscopy for RTs has highlighted the changing roles at many centers. Such roles are no longer restricted to larger academic medical centers. Moreover, often specialized training is needed for these evolving procedures. Smaller facilities now need to ensure RT personnel at the bedside can perform several functions to ensure patient safety, quality, and experience:
Use or assist with the newer bronchoscopic technologies, including scopes and adjuncts
Ensure proper stocking and inventory of the correct supplies
Verify that appropriate radiological imaging is present at the time of the procedure
Work with specimen handling and local pathology and microbiology laboratories
Work with sterile processing teams and facility leadership to ensure all the equipment is available and functional for each procedure
Help coordinate with anesthesia teams regarding airway and respiratory issues depending on the planned procedure and help manage potential respiratory issues perioperatively.
Assist in the management of any procedural complications
Our patients' outcomes and experience, as well as the success of our advanced bronchoscopy program, depend to a large degree on the RTs being integral to the team performance. We rely heavily on their skills, expertise, and presence for each procedure. As a testament to their value, our RTs are increasingly asked to provide hospitals and organizations with leadership and expertise whenever bronchoscopy-related questions arise. Moreover, as many centers rethink their bronchoscopy areas and the range of services provided and planned,v RT input can be extremely valuable. Advanced bronchoscopy work naturally lends itself to creating new work for RTs in areas such as management, quality, data analytics, and research. Several centers are already incorporating RTs in such roles, which may lead to enhanced job satisfaction, growth, and other professional opportunities. Moreover, this specialized work provides another avenue for clear value and visibility of the RT profession with the opportunity to create a lasting impact on patients and the communities we serve.
Today, we need RTs in advanced bronchoscopy with the skills, knowledge, and desire to continually help lead us at the bedside and lead the profession as this space evolves.
Summary
There are several key innovations in advanced diagnostic bronchoscopic methodologies, and there is mounting evidence that such trends suggest the widespread expansion of this movement. Moreover, this article only touched on diagnostic procedures, while the world of therapeutic bronchoscopic advancements poses another area of innovation and growth. Meanwhile, fueled by increased demand for these procedures and a changing ecosystem in many centers that perform advanced bronchoscopy, the RT profession and the AARC should view advanced diagnostic bronchoscopy as another opportunity for the profession to train, develop, and lead the path forward.
Email newsroom@aarc.org with questions or comments, we'd love to hear from you.