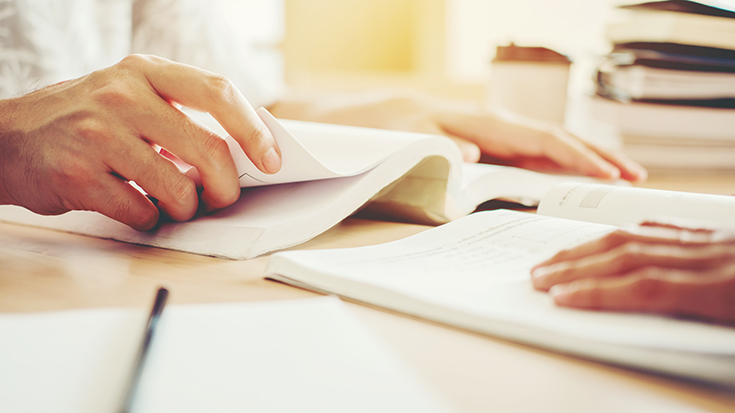 July 3, 2023
The healthcare system depends on research to identify new treatments and modalities and confirm whether or not those currently in use can hold up under scrutiny. As key members of the health care team, respiratory therapists have much to offer the research community, and many therapists are actively involved in carrying out and publishing studies of their own.
Research is a team effort, though, and a key player on that team is the research coordinator — the person who finds and keeps track of study participants, assists with data collection and shepherds the study towards completion.
Michael Terry, BSRT, RRT, RPFT, CCRC, is a great example of how an RT can take on the research coordinator role. As senior research coordinator at Loma Linda University Medical Center in Loma Linda, CA, he is actively involved in a range of projects aimed at improving care for people with respiratory conditions.
Patience and perseverance
Patience and perseverance have been key to his success.
"I worked for 25 years in clinical medicine and still do on a part-time basis in the PFT lab," said Terry. "I moved into research gradually and was encouraged by my directors and physician mentors."
Being in an academic setting was a big advantage since that's where much of the research that is published is carried out, and Terry says his clinical experience in the ICU helped him develop the inquiring mind necessary for his role in research too.
"As I developed as an ICU RT, I was encouraged to ask and answer research questions about mechanical ventilation," he said. "Many of these were accepted for AARC research poster sessions."
Attending conferences such as the AARC Congress also furthered his understanding of the research area.
Proactive steps
But Terry took some major proactive steps to ensure he could have a future in the area as well. Chief among them was going back to school to earn his bachelor's degree in respiratory therapy.
"One of the most productive things I did was to acquire my BSRT, said Terry. "Not only did I have classes in research methods and statistics, I met a group of people who were interested in research in respiratory care."
After he graduated he volunteered for a research internship with one of Loma Linda's basic science labs, and when he completed that assignment, the physician group he works with now asked him to help coordinate their clinical studies.
The next step was to seek out a formal credential in the area, and he decided to go for the Certified Clinical Research Coordinator (CCRC) credential from the Association of Clinical Research Professionals.
The credential formally recognizes clinical research professionals with experience coordinating and facilitating clinical trial activities and is open to those with 3,000 hours of verifiable work experience or 1,500 hours of work experience plus a degree related to clinical research.
The work is cyclical
With an advanced degree and the CCRC credential in hand, Terry was well positioned to take on a full-time job as a clinical coordinator.
"I eventually got the opportunity to pursue research on a full-time basis when the physicians I work with brought in enough studies to support my salary," he said. At one point, the volume of studies was so large that they actually needed three coordinators and Terry was able to hire and train two other RTs for the jobs.
He emphasizes the work is cyclical, though. "Studies come and go, so the need for coordinators varies a lot," he said. "Currently, we are at a low point in the research cycle and I am the only one in our department doing research coordination."
When his research responsibilities do slow down, he always has his clinical expertise to fall back on. "I take on more clinical work when we don't have enough studies," he said.
A typical day
What does a typical day as a research coordinator look like? Terry says his group usually has three to five studies in the outpatient clinics and one or two in the inpatient hospital, so he will review the patient census and clinical schedule to look for potential research subjects. "Each study has very specific inclusion and exclusion criteria, so finding qualified subjects can take while," he said.
A couple times a week he'll conduct a "subject visit" — the name they give to the way they organize interactions with the subjects in their studies. "These visits can involve coordinating a series of clinical activities, laboratory testing, sample processing, and physician visits," he said.
Paperwork is a big part of the job too. "I spend a lot of each week evaluating new research proposals, responding to requirements, and communicating with study sponsors," he said.
The biggest challenge in the job is attracting and retaining good studies, since each has its own life cycle and more are always needed to keep the research machine going.
"The biggest rewards come from working with the subjects," said Terry. "Some of the studies we are involved with provide opportunities for the sickest patients to access treatments that might be very beneficial to their health. Not all studies are positive, and some have side effects, but we accept them because they provide hope for our patients."
The close working relationship he is able to build with the physicians involved in the studies is another big upside to the job for him.
A good gateway
Michael Terry got into the profession of respiratory care back in 1980 on the advice of a friend who told him there were lots of good opportunities for growth in the field. That friend may not have been thinking specifically of research, but as it turns out, he was right.
"I was very fortunate to work in an academic hospital that has physicians and leadership that value research," said Terry. "My background as an RT acted as a gateway to these opportunities and allowed me to develop skills that are needed for all types of research."